Onsite and Mobile Windshield Replacement in Hammond, Indiana
When looking to get your windshield replaced in the Hammond area or surrounding Lake county area make sure you are using a trusted professional, like Low Price Auto Glass. Your car glass is a safety feature protecting you and your family from road hazards, so it is of the utmost importance to make sure that the company repairing or replacing offers highly trained professionals and high quality products, which is exactly what we do! We offer a wide range of products to match the existing components that are on your vehicle at the lowest price in the area. Customer satisfaction is our number one priority, which is exactly why we stand behind out products and services. We offer a lifetime warranty on the work we do to make sure our customers are not only happy when they leave but still satisfied months and years later.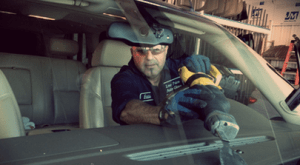 We have a huge inventory of glass that will help keep your options open and your turn around time short, so we can get you driving down the highway in no time! We understand that time is a commodity that most people do not have enough of, so our inventory allows us to offer low prices and quick turn around, which is a true uniqueness for our customers. We work on all types of vehicles including, trucks, SUV's, cars, vans, ect. Our goal is to keep your vehicle looking as close to it's original OEM standards as possible, by providing a wide range of windshields to replace your damaged glass.
Also, if you are stuck on the side of the freeway or do not have the time to come to our location, we can come to you! Our mobile services allow for our customers to relax at home or multi-task at the office with us coming onsite to do the work that otherwise would cost them precious time. Give us a call today for a free quote and to learn more about how we can help you with your windshield replacement needs.
Get a FREE Windshield Replacement QUOTE NOW!