Power Window Repair in Hammond by Experienced Technicians
Power windows have been a luxury item around for years now but unfortunately sometimes things go wrong with them. Window won't go up and down? Came outside in the morning and someone had broken your glass out? Did it fall and now it won't come back up? We know exactly how frustrating that can be, especially in inclement weather conditions and whatever the case, Low Price Auto Glass is here to help get your problem fixed so you can get back to your life. We offer a huge inventory of power window parts and components to get your glass repaired and just like new in no time flat.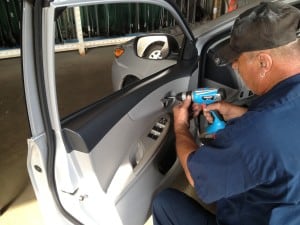 Our satisfaction guarantee, matched with a wide variety of options, makes us the best at what we do in the area and we take pride in our work. We make sure that every customer leaves our shop satisfied with the end product, the price for the service, and the consultation experience. We understand that a broken window can be frustrating which is exactly why we make it a priority every day to ensure the installation and selection process is as smooth as possible for our customers, who are trusting us with one of their most valuable assets.
Our experienced technicians work with our giant inventory of door window glass to get you the best price possible and to get you the quickest turnaround time in the Hammond, IN area. We work on all different makes and models of vehicles and like our other services offer a lifetime warranty on the products and services we provide. It is important for you to have a working power window and it is important to us for you to leave our shop happy and remain that way for years to come. We have a highly trained, friendly, and professional staff standing by to assist you with your needs. Give us a call today for a free estimate on your vehicles power window repair!
GET A FREE POWER WINDOW REPAIR QUOTE NOW!